Our Warehousing Logistics Services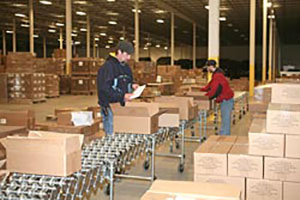 Our experienced staff are professionals in all warehouse and logistics processes. Learn more about some of our top-notch services:
Contract, Public, and Food Grade Warehousing
Peosta Warehousing prides itself on flawless and professional food grade warehousing services with quick access to major transportation hubs like Kansas City, MO, Chicago, IL, Minneapolis, MN, and Milwaukee, WI. Our safe warehousing is Organic Certified and we have received the highest AIB International rating of Superior.
Our third-party fulfillment services receive, store, package, and ship your precious cargo in a cost-effective manner with skill, speed, and accuracy.
Container Unloading and Cross Docking
When your items arrive at one of our centers, our professionals will unload the containers and prep your items for cross docking. Cross docking allows you to ship via full truck loads, reducing costs and ensuring quick delivery.
Pick and Pack, Repack, Sort and Aggregate
Our staff will pick and pack your items, preparing them for shipment by repacking.
Knowledgeable staff at our warehouse locations will assembleindividual items into ready-to-ship kits.
Local and International Logistics
Understanding complex local and international logistics can be a full-time job, taking your staff away from the critical work of keeping your business running. Our warehouse management services team can accomplish this task for you so that you and your staff can focus on what's truly important—your business
The effort to get products from the warehouse to consumers is a fluid one requiring careful inventory management, order fulfillment, labeling, packaging, and shipping. Using state-of-the-art technologies and an experienced Peosta Warehousing staff means your distribution occurs flawlessly with limited effort on your end.
If finding suitable warehouse and distribution space has become a challenge, we can help. We will develop a building that suits your specialized warehousing and logistics needs.